Gusty winds, lightning and rain are pummeling the Northeast this morning, bringing flash flood warnings to New York City, Philadelphia and Washington, D.C.
Interested in
Weather?
Add Weather as an interest to stay up to date on the latest Weather news, video, and analysis from ABC News.
The storm has already toppled trees and power lines in the New York City area, reported ABC station WABC in New York.
One subway station resembled a waterfall.
Significant flooding in area of 9th and Madison as well as Shop Rite. Please avoid this area if possible. Contacted NHSA who is working in area to mitigate. #hobokenpic.twitter.com/QPcSoPqtLw

— Emily Jabbour, Councilperson-At-Large (@HobokenEmily) April 16, 2018
The rain stretches as north as New England, bringing an especially rough day to Boston Marathon runners. As the race began in Hopkinton, Massachusetts, this morning, the temperature was a chilly 40 degrees with a wind chill of 29 degrees, and wind gusts reached 30 mph.
The rain will get heavier in Boston this afternoon.
Roads are icy in other parts of New England today, where there's an icy mix of freezing rain, sleet and snow.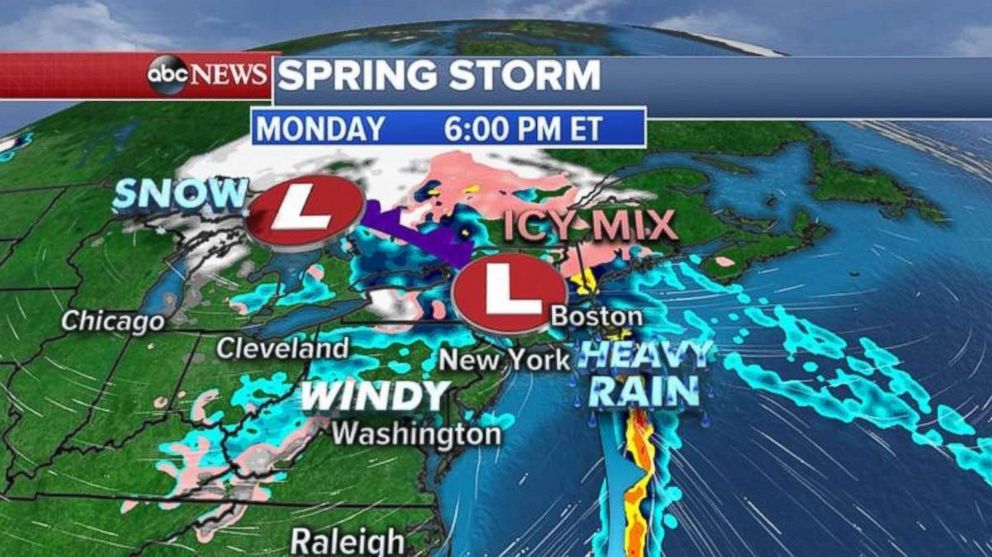 Rainfall totals for the Northeast will be 2 to 4 inches.
On Tuesday the storm system will lift north into Canada and the heavy rain will end in the Northeast.
But on Tuesday morning, gusty winds and lake effect snow will remain in parts of the Northeast as well as the Great Lakes. Up to half a foot of snow is possible in northern Wisconsin and the upper peninsula of Michigan.
The spring storm first brought deadly tornadoes and severe winds to Arkansas, Louisiana, North Carolina and Virginia before it hit the Northeast.
Virginia Gov. Ralph Northam has declared a state of emergency in the wake of the wreckage.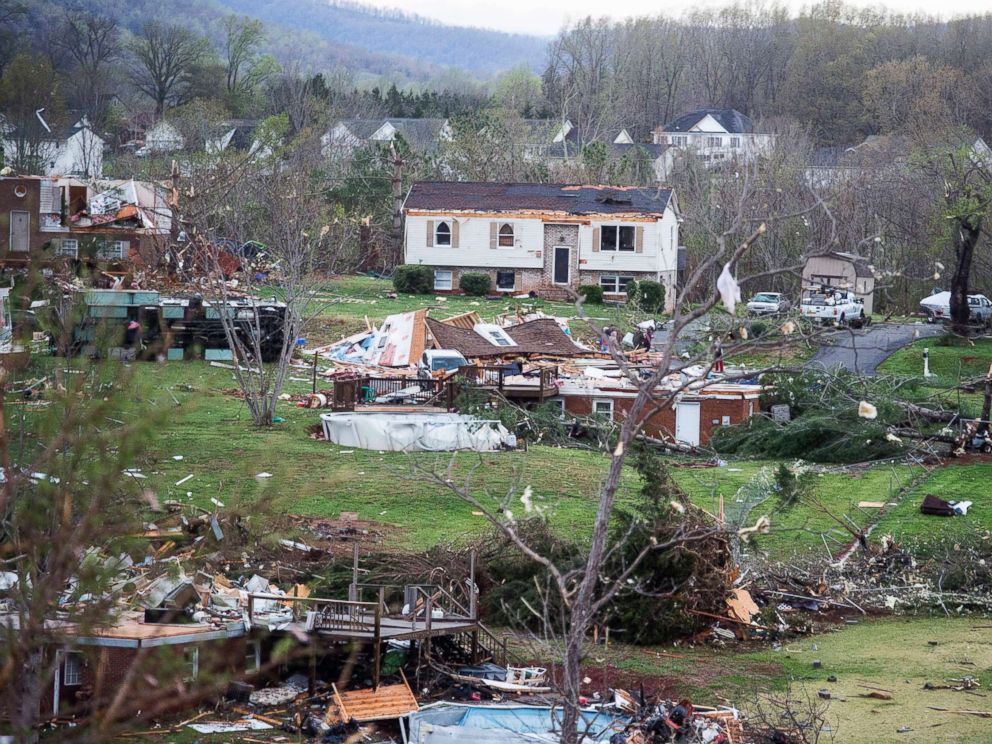 There is another storm moving into the West this morning, which will bring more snow for the Midwest and the Great Lakes this week.
A swath of snow will spread from Nebraska through Wisconsin and Illinois on Wednesday afternoon. The snowfall will be the heaviest in southern Minnesota and northern Iowa, where as much as 8 inches of snow could fall.